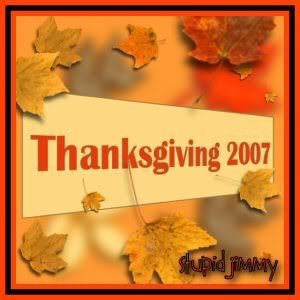 The funny thing is, this time of year, we go through the motions, saying all the right things, sharing the right emotions. We're thankful for our family, our friends, our lives, mostly because we're supposed to be, and we would never think to say otherwise.

The thing is, when those people step up and really make a difference just when you need it most, it's almost like an epiphany. Genuine gratitude and appreciation feels good. You figure out that there was a need, and all these wonderful people around you filled that need. And all of a sudden, the world isn't so bad now, is it?

This year, I think I qualified as "needy". Sometimes I use that term in a not-so-flattering way, but for me it was an incredible experience. Some day, I'm going to share the details, but for today I'm just going to say "thank you." Thank you to the wonderful people in my life. I really have a whole list of things to be grateful for, and that's an awesome feeling.

Cassie and Emily, I don't know what I'd do without you, and I would rather never know what that would be like...ly guys so much. I guess we never get too old to appreciate having a hand to hold. You've literally carried me through some of the worst times of my life.

Nance, you're always there to remind me that no one is ever really alone.
Kristen, your words of kindness and inspiration were priceless. I hope you know they ALL mattered and while we're at it, Mamma, you too. I look forward to some more debate/collboration. Thank you.

NF, you said a few nice things, as did Holly-I wish you well. Pam, Jackie and Jackie, Nettie, Myra, Catherine, Kathy, Tracie, my old friends from AOL, you're always there. Really. And, by the way Catherine, you're an inspiration.

Sam, Gaz, Marty, Mort, Cubby, Tusk, Steve and Jeff: fellas, I think someday we all need to sit down to a few hundred beers. And maybe Sam and I could jam a little on those guitars.

Sharlene, you're a pretty Lady who says pretty things to me. Thank you. El-Em-Es, I'm still getting to know ya, but I am so glad that I am. Jodi, as always, thank you. Diesel, thanks for raising the humor bar. Emily-Two-Write: I don't always comment, but I always read. Thanks for reminding me of the value of good work. Kelly, keep those opinions coming my friend, it's nice to have kindred spirits. Lily, we think alike, but I'm not sure if you'd want anyone to know that! I love your take on things, and your input. Kelly and Pickle~Jenn, I'm glad you're my friends. Stacy, hang in there. I hope to be as good a friend to you as you've been to me.

Niki and Dave- few people ever did more for me than you two did when I was injured and laid up for months. No one should ever forget that kindness. Love you guys, and we'll sit down together again, very soon.

Kristeee, thank you for being nice to me 100% of the time. That can't be easy. Chosha, your adventures and ideas always kept me thinking. Let me know if that camera is a winner so I can get one too :). Hillary, your writing is amazing. I don't use that word too often.

Andi,what can I say. Love you.

Barb, I hope the South is treating you well. Stay safe with that new truck because you're a friend I can't do without.

Ally, I know that Blogger doesn't cooperate, so thanks for letting me know you're here!

Allison, I am SO glad you're back. Joan, Betty, Suzy, Becky, you too! And Celeste. My other Ally, it's always good to hear from you :)

Anne, you're like an angel on my shoulder. I love your every word. And the e-Cards.

Janice, your professional guidance the last few months has been priceless. Your friendship, more so. Thank you so much; you're someone else I couldn't have done without. I hope you know that.

Danielle, my partner in crime...hang in there. Time flies a lot more quickly than you think. You were my first Journals friend. And one of the best. Love you my friend.

Lindsay, keep sharing those stories about your little guy. And let me know how Brooklyn's treatin' ya.

Celeste, glad you found me again. Barb, you too, because your spiritual inspiration is priceless.

Nemesis, you're one of my heroes. I need way more of your attention :)

Cynthia, keep sorting and I'll keep reading. Donna, welcome back.

Tricia, we're working on it. I think it's worth it in the long run.

Marie, Jeannette, Missie, Nikki, Niki,Indigo... I always think of you, your lives, and I consider you friends. Shows how powerful the Internet is, since we've never even met. People connect any way they can, right?

Erin, love ya babe :)!

Tiffany, we agree on so much. But I still think you're great :)

Jill, B, Barry, Terry Ü, thanks for the kind words the other day.

Michele and Patti, two of my oldest, dearest, cherished "blog" friends. Thanks for hanging in there with me all this time; and Michele, glad you decided to give blogging another try!

Jude, when I think of someone consistent, steady, solid and always there, you come to mind. Thank you so much. Michelle, a new friend, I'm so glad we've "met". Your kindness goes a lot farther than you realize. Shash, thanks for turning me on to BlogHer, a great resource. Terri, thank you for taking the time to say nice things. Tammy, you epitomize strength and courage. The idea that you would take the time to try and lend some support to me, well, that just speaks volumes of the person you are.

Marina, you're awesome. Always thinkin' of your pal Stupid. Love ya.

Terra, I think of you every time I have hobo packs. And when I think of good people who love me. You're always there. Really. Love ya.

Martha, I'm so glad you let me into your Journals. I like the way you think. Thanks for being a caring friend.

Mary, some day you and I are going to hug. That's the only way I could ever imagine thanking you for every word you've every shared. I don't know what I did to deserve your friendship, but I'm glad I did it. Thank you so very much.

Rachel, you think you're weird, I think you're great. And I appreciate you finding time to show a few words of support.

Meta, just to remind you, you're still missed.

Christy, Julia, Annie, Joan, Robin, Bridgette, Jeanne, Jenny and Susan,we still manage to stay in touch, and you still manage to say the right things when you come here. Thank you.

And Lady M, you're back! I can't tell you how happy that makes me. Glad you're doing well!


I really did my best here, to thank everyone who took a few minutes of their lives to help me with mine. You're all terrific, and I thank you from the bottom of my heart. I appreciate that you've indulged me this far, today. It was the only sincere thing I could do.

Happy Thanksgiving to each and every one of you.