I can't say that I believe in ghosts, at least not in the "supernatural" sense, like poltergeists and such. I do believe that our souls experience some sort of life continuation after our bodies call it a day, but as far as hauntings and things like that go, I am definitely a Doubting Thomas Stupid. I mean think about it, if a soul is freed of its physical boundaries, could be anywhere it wanted to be without limit, how reasonable would it be for it to hang around my apartment knocking bottles off the shelves?

I will state that I believe in Guardian Angels. There is simply no other explanation for the fact that I am alive. However, I don't think throwing a clock across the room fits that job description.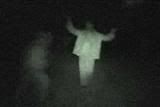 But I just wonder about something. Given my doubts and reasonable certainty that souls don't become spirits, I would say I'm in the company of a lot of other people who also don't "believe in Ghosts". I'm not the only Doubter, I'm sure.

Just suppose however, that one night you walked into your dark living room, and there, before your eyes, was a genuine spook. An apparition floating in the middle of the room, doing whatever ghosts are supposed to do. You're alone, naturally, and no one is there to witness it, so you're on your own as far as making up your mind as to what you see.

And just like that, the vision is gone. What would you do? Would you convince yourself that it was some unexplained physical phenomenon? Or would you accept that something you doubted so long actually exists?

Or would you do like me, and just run back into the bedroom and hide under the blanket?