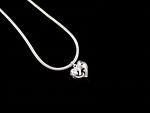 I really believe it's natural for us to always want what we don't have, or to aspire to bigger and better things. I also think, however, that there is way to much attention paid to materialism, whether through celebrity press, reality TV and ridiculous shows like Dr. Phil. We've created unrealistic ambitions and desires because more and more, good, decent people are out there hurting. They think that they don't measure up because, maybe, they're living life based on "traditional" values.

I think we need to stop. I think people need to stop assessing themselves on a daily basis. There's always been the "real" world, and the "fantasy" world, but somehow, we've blurred the line between the two a little two much.

What hurts me personally, is to see others hurting. People who are decent, whose hands I'd put my life in, are out there feeling as though they're not getting it done because they don't "fit the profile".

I've been on both sides of a lot of fences. "Success" really isn't about money and wealth. Success is very fleeting, to me, because it's a measure of how you've made a positive difference in even one life. We often measure "Failure" by the same yardstick, and I think the only time we fail is when we don't take the opportunity to do someone else a kindness when we have the chance.

I think we need to take a deep breath. I think we need to realize that, despite all the people making money by telling other people what they already know, that it really is ok to just "be". Just do the things that make ourselves and others happy, and not necessarily on a grand scale, either.

Life is all about aspiring to do better, reaching for the brass ring, and all that. I don't dispute that. What kind of treasure chest ever had just one jewel in it, right? We have to remember that a good life is made up of a whole lot of little pieces all put together just right. But each piece is unique to us. Someone else's life, their belongings, oh that might fill the chest up, but will it make it valuable, really?

Time to lighten up a whole hell of a lot, folks. I'm tired of good people not feeling so good.