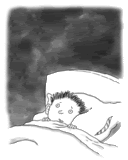 I've had some major sleep problems lately - falling asleep, staying asleep - but tonight I dozed off good and early. Then someone woke me up to ask me if I wanted the light on or off. That reminded me of the hospital one time where the nurse woke me to give me a sleeping pill.

I did my best not to swear a whole lot, but now it's going on 2 AM. Not a lot to do at that hour so on went the TV.

First up was a news story about a window washer who fell 47 stories and survived. Given the hour, I wasn't sure I heard that right, so I looked it up. It was true. You can check it here!

Then I saw a program where Maureen McCormack was visiting. McCormack, in case you don't know, played "Marcia Brady" on "The Brady Bunch". She announced that she is now 51 years old.

Sigh.

There's nothing worse than watching someone prepare exquisite Southern Fried Chicken at 2 AM, knowing that if you did that now, those guys in the white coats would be taking you for a ride. So it's time to try and go back to sleep.