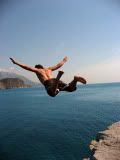 Me again.


I don't usually do those "meme" things. But Ms Kristen tagged me recently,(ok it was a while ago but we know me) and when she talks I LISTEN! But it also seemed like I was overdue to play along on one of these badboys. So here goes...



A- Attached or Single? Somewhere in between at the moment, I think. The way life is lately, I don't think I'D like me too much. So I don't want to inflict that kind of ugliness on some nice Lady.


B- Best Friend? I can honestly say there's about a 10-way tie for that spot, and I'm going to keep it that way! Cause they'd kill me otherwise.


C- Cake or Pie? 99% of the time, cake. If they ever figure out how to bake a pie into a cake, I'll be in huge trouble, (pardon the pun)


D- Day of Choice? Saturday. Lately, it's generally the only day of the week where I get 5 minutes to myself. And a hot shower with actual hot water.


E- Essential Item? T-Mobile Sidekick. Essentially the perfect Geek Toy.


F- Favorite color? Blue. Without the black, of course.


G- Gummy Bears or Worms? Worms are nasty. I hate digging them up, so I'd have to say I prefer Gummy Bears.


H- Hometown? New York City, NY. Or is it NY, NY? I haven't been there in a while.


I- Favorite Indulgence- cooking for people who like to eat something other than Mac n Cheese.


J- January or July? July. July. July. It's hot then. And you don't have to shovel heat.

K- Kids? 3 of my own, and occasionally 20.


L- Life isn't complete without? Some good ol' Blog/Journal time. It keeps me sane. Or at least stops me from harming anyone.


M- September 15, 2008. (inside joke, thanks.)


N- Number of Brothers and Sisters? 3 Brothers 1 Sister.


O- Oranges or apples? Oranges.


P- Phobias or fears? Fear of heights, which is what you write when you can't think of the right term for "fear of heights"


Q- Quote? Hmm, I think my quote would be, "Rich or poor, it's nice to have money"


R- Reason to smile? Honestly, no one makes me smile like my kids.


S- Season of choice? Garlic.


T- Tag three friends or family. Let's see......Michele, Nancy, Holly.


U- Unknown fact about me? I was once the President of the United States.


V- Vegetable? Spinach. A lot of Popeye cartoons as a kid.


W- Worst habit? I can never write anything "short and sweet". Everything I put down in words is way overextended, when I know I should really just get to the point and not fill up a page with long run-on sentences that are completely devoid of punctation or grammatical structure and I am going to stop now thanks!


X- X-ray or ultrasound? I am neither.


Z- Zodiac sign? NO LEFT TURN Taurus.