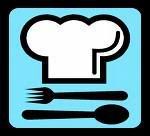 One thing I have come to understand is that Blogging can be a source of great information.

So here's my situation. In addition to his cancer, Pop has fallen victim to colitis. He's also been a long-time sufferer of diverticulitis, as well as major lactose-intolerance.

Stay with me now...

So part of the job-description for me has been preparing meals. I'm living with my kids and their Mom, so pulling off meals that Pop can live with, and the others can enjoy has not been easy.

Now I have been consulting a lot of websites. The diverticulitis is easy...no seeds, nuts, popcorn, etc. Don't cook with them much anyway. But the colitis is a tough cookie. There is no "Colitis Diet" so to speak. There are some definite foods to avoid: high-fat things like bacon and sausage. Meats need to be lean, which can often translate to dry. But mostly, you keep track of "trigger foods" which can set off an attack, and avoid them in the future. Sadly, "trial and error" can mean a few flare-ups while we learn.

So I've come up with a few sure things to go with in the "safe" category. Chicken and turkey sit well with him. (stuffing doesn't!). You kind of go against convention in that you are advised to avoid high-fiber foods. Eggs are good, and low-fiber foods are acceptable, especially during flare-ups.

Well, after cooking all the "ok" dishes, I find that the menu is rather limited. There's a lot of foods out there that he used to love, but can't have any more. He can eat pancakes just fine, just no sausage. Bacon is out. Most pork foods are out, as a matter of fact. Foods that start out ok can wind up in fatty recipes. He doesn't care much for stews and casseroles, which are usually fatty in nature anyway, but chicken-breast cutlets, lean cuts of pork (tenderloin) do ok. I made a dry-roast eye round of beef which sat pretty well with him, so there is a lot of confusion here at Chez Stupid, you know?

Anyone who cares to be kind to Stupid here, contributing a recipe to me would be much appreciated. If it fits in the comments I'll keep an eye there, or you could use the contact link on the top right of my page. I would really appreciate it. Managing the menus for Pop, a teenaged girl, a growing boy and an 8 year old girl, along with their slightly-finicky Mom has been quite the challenge. Maybe a reality show is in the works!

Thanks in advance. I really need your help!