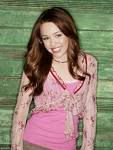 It seems to me that the media are going to do their very best to cut down this Miley Cyrus/Hannah Montana kid. The scrutiny is bordering on the ridiculous. I fully believe that no one in this country is happy with anyone who is a positive role-model, and will not rest until they find some kind of flaw. It's just stupid.

The latest idiocy comes in the form of a blog post over at Consumer Reports Magazine. Apparently, in the latest "Hannah Montana" movie, there is a scene where the girl and her father are riding in the back seat of a Range Rover, and, *gasp*, she isn't wearing her seatbelt.

OK, this isn't a discussion about the merits of seatbelt use. This is me taking umbrage with the media in their relentless pursuit of imperfection. Yes, she's a role model to kids. Yes, if she was seen smoking a joint or drinking a shot I'd be a little (emphasis on little) upset with her. But I'd be willing to bet that few, if any, of the kids who saw the movie would remember either way if she was or was not belted in. And I'm talking about a kid who is asked without any prompting, of course. (I just asked my two girls if they remember the scene. Insert blank stares here).

As I said, if she were glamourizing underage drinking, teen sex, or drug use, I might get a little bugged. Seatbelt use should be mandated by parents. Period. Household rules should not be set (or for that fact, influenced) by a Disney star. If someone's parenting skills are so weak that a mistake by a teen idol could completely undermine their rules and regulations, maybe Consumer's should be posting about that. I see that as a bigger problem.

This isn't even about seat-belt use, if you ask me. It's the media putting a good, decent kid under a microscope and probing until they find the slightest chink in the armor. And the message that sends is, "Kids, you'd better be perfect before you walk out that door in the morning."

That bugs me more than Hannah Montana forgetting to buckle up, you know?