Back when I saw the first Terminator movie, it was pure science fiction. We just didn't have to worry about the premise coming true - it was too fantastic.

Recently, I began watching "TERMINATOR: THE SARAH CONNOR CHRONICLES" on FOX, and suddenly, the whole thing seems a lot more plausible. Computers have a very large presence in our lives these days, no doubt. (for those of you unfamiliar, the storyline, in a nutshell, is that computers and robots destroyed the world in the near future, and the heroes of the story have come back in time to destroy all the computers before they have the chance to destroy the world)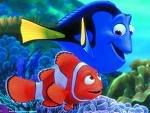 Disney gave us "Finding Nemo" a completely computer-animated movie about some cute little fishies. It made sense for Disney to animate fishies because they are notorious primadonnas, and the Fish Actors Guild is tough - they're just sharks to deal with! But other companies have been working on computer animation. There's one production company that is spending millions to create computer-generated animation of people that look so real they're almost...well wait a minute, why not just use real people?

It's getting to be ridiculous. I mentioned recently that I also watch The Discovery Channel's "How It's Made", which shows the processes involved in making just about everything we buy. The thing that was noticeably absent from all the manufacturing processes was...PEOPLE!

It seems as though there isn't a job left out there that can't be done with computers anymore. I got a telemarketer call the other day that wasn't even a human. And it wasn't even a human voice on the recording! 100% computerized process right down to the similar voice. It didn't even respond when I cursed at it!

So when the computer puts you out of a job, you can go to automated job search websites (created by computers). But when you apply, you do it online. And when you submit your resume, it doesn't go to a people it goes to another computer! So a CPU decides whether you're qualified, and if not ---RECYCLE BIN BABY! The jobs are posted by computers, your rejection emails are computer-generated.

Call the bank to inquire about that $47 million dollar withdrawal from your checking account, and you'll spend a lot of quality time with that computer customer service representative. I know the bank designs that program in hopes that you'll just say "the hell with the $47 million" and go about your day bothering other computers.

Some companies tried the alternative, aka "outsourcing", but that's proving to be a security problem, plus, American citizens are getting tired of calling "American" companies, and being greeted with "press 1 to continue in English"

So slowly but surely, every consumer products company is going fully automated. Every service company is going fully automated. You can even log on now and get an automated lawyer. It's all very cost-efficient.

But with all this efficiency comes the loss of jobs. That's kinda where a lot of people get the money to spend on consumer products and services. So it makes me wonder...when all the computers are doing all of the jobs and no people work anymore, so they don't have money to spend, who are these companies going to make money selling to?

A-HA! The other computers! See, no need for peoples anymore!

When Arnold Schwarzenegger's robot character introduced us to the words, "I'll be back..." I thought it was a cool catch-phrase, not a prophecy.

But I have to go now. The computer wants breakfast.