This morning, I had a little time to waste and caught a consumer report from Good Housekeeping labs about, (one of my favorite topics) women's boots. This report set out to find the best boots to buy when you want to keep your feet warm in the Winter. I was a little surprised out the actual outcome (you'll probably be too)

The Top Four for Comfort and Style (subjectively on the style of course)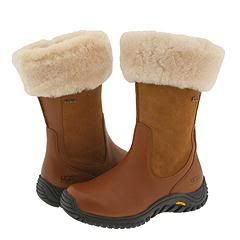 The Uggs "Bandon" Boot for $200 (click on the photo if you wanna buy them - I'm SO good, huh?)

The Sorel Waterfall boot...$95

Clark's Regina Boot...$149

Funny thing was, the best-rated boot was also the most inexpensive:

L.L. Bean's Insulated Comfort Boots for, (check this), $39.95

Now while I'll admit that my taste normally runs more along the lines of these:(Stuart Weitzman - a mere $525 at Zappos - sure, why not, get TWO pair, right?)

I'm fully aware that there's a real need to buy functional boots too, 'cause if your feet freeze off, then you can't wear any boots, and then who wins, right?

So there you have it. Always ready to do my public service here at Stupidsheet. I know your day's a lot better now.

Well, mine is...