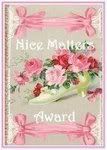 Today someone told me that I'm nice. Now, next to "sweet", that's one of the most flattering things I've had said about me. I'd really like to believe that some folks have that opinion of me.

Tressa, over at "Storms Whisper" is the kind Lady who bestowed that award on me today. You should check out the beautiful prose she lays out over on her blog. Coming from her, this is a genuine compliment.

I'd like to pay it forward now, and choose a couple of folks who I haven't tapped before.

Colleen, over at "My Life" is a very kind young Lady who is very involved in awareness efforts for the Multiple Sclerosis Foundation. I love generosity and kindness, both of which make someone nice, in my book.

Kristeee is a new Mommy, and she's also a blog friend who's always been very nice to me. She's over at "I'm Not Going Crazy"

Now I know that I said that I wanted to tap people who I've not given honors to before, but my conscience would never allow me to pass up this opportunity to cite a couple of people here today. They have been so utterly kind to me of late that I'm in the best kind of debt to them, that of gratitude. Kristen is a reader of mine who keeps a private Blog, so I won't link that, and Mamma, of course, is a "colleague" of sorts, who writes over at Love, Life and Logic. These two Ladies saw an opportunity to share some kindness and compassion, and they took it. My soul is in a better place today because of them. So thank you, Ladies, as always, for your friendship.