One thing I've noticed about Blogging is that I get to enjoy myself and don't get yelled at a whole lot! I've enjoyed building these little friendships here, and they've made me smile a lot lately. There can never be anything wrong with that, right?

I'm privileged to share in not one, but two awards today. I'm so grateful to be made to feel welcome.

Justrandi, over at "Is It Just Me" presented me with this award:

Thank you so much. It's nice to know that my stuff here matters sometimes. I try :)

And Nancy, over at "Nancy's Nonsense of Nothingness" thought she would make my day with this award: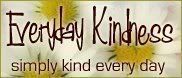 Guess what? She did. Yayyy. I think my Mom would be proud of these awards. Her big Dummy makes good and plays nice in the sandbox.
Of course, the rules dictate that Lippy shares his awards by naming his own recipients, so here goes: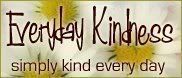 For this Everyday Kindness award, I selected:

Michelle, over at (((Reflections))). She is someone I just know makes a big difference in the lives of those around her with her acts of kindness. I always agree that truly great people do ordinary things in extraordinary ways.


And my dear friend Allison, over at "Allison's Corner" Who qualifies automatically because I, personally, am a regular recipient of her kindness. I love her and she's a great friend to me, as well as a lot of other people. I'm sure no one would dispute this selection!


My friend Cassie, who shows me on a daily basis what a best friend is all about. She has a private journal so I won't link it, and you'll have to take my word on it. :)


My friend Emily, whose journal is also private. She has made it her business to make me smile and to remind me that I'm never alone.


And my friend Erin over at Gillie Time. She never fails to brighten my day with her comments every time she visits.
Come back later for my selections for the other award. DO IT!

I'll be bock.