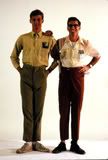 When you become a full-fledged computer Geek, it means that you've come to grips with it, and you stop worrying who knows about your passion. You accept it. And Dr. Phil would be proud.

One trait that Geeks have, that a lot of people don't quite understand, is the desire to help non-Geeks with tech situations. Some might call it meddling. Whatever.

But we have to help. It's just in our nature. When we see someone struggling, or hear them describing a problem (yes, we eavesdrop at times, sadly - we just can't help it!) we stick our noses in. I don't know why, but we do.

Now when you're a Geek who also happens to be a male, that can be a problem. To illustrate:

I was in a situation recently. I was on a commute. There was a woman sitting next to me, working on a laptop. After a few minutes, it became obvious that she was having trouble. (the sighs and the mumbled swear words are always a good indicator). I was nosy, of course, and saw the program that she was having problems with. And I know the program.

But now the Geek brain is being overridden by the Male brain. I'm afraid to speak up because:


I'm a stranger


I'm a male, she's a female


She is an attractive woman


I know there's a good chance if I speak up, my good intentions might be misconstrued, and any guy, Geek or not, doesn't want to get yelled at for being rude by a woman.

That kind of comes from experience. Geeks are only suave and hot in the movies. Most of us are unhot. (invented word).

Well, her struggle was so bad, but so easily remedied that I took the chance that she would not mistake my service as a come-on. It's just silly.

I remember precisely what I said, too. "May I please be so rude as to stick my nose in here? I've had that problem before and know how to fix it."

Well, I guess that sentence sure sounded lame enough that I didn't present a threat of any kind. Lameness can come in handy too, you know. It worked out well, I fixed the problem, then showed her how to handle it herself in the future. And I didn't ask for her phone number. She said, "Thanks".

Since I can safely say that I know 99% of the women who read this dumb blog are attractive women, (I haven't seen the other 1% so don't yell at me!) I'd like to ask you if my nervous lame geek trepidations are correct. If some geek knew that you were having a problem with your computer, and knew how to fix it, would you be mad if he got involved. That would confirm that I just got lucky for not getting yelled at and told to mind my business.

Guys, you'll get your own question some other time, ok?